Recipes
Like our recipes in our Christmas Special Flyer for 2018? All of the images are from the Narin's World of Taste. We have the recipes below but you can follow Narin's World of Taste here:
Website: http://taste.narin.com/
Facebook: https://www.facebook.com/Narins.World.of.Taste/
Pinterest: https://www.pinterest.com.au/narins_taste/
Food Gawker: https://foodgawker.com/post/archive/narins-world-of-taste/
Mango & Herb Salad with Grilled Chilli Sesame Prawns from Narin's World of Taste
This recipe I combines the fruity, citrusy, and herbal taste of the salad with the fresh spicy flavor of the prawns. This creates a mouthwatering flavor of "Summer Time" which you can enjoy when sitting outside and when friends are over. Serving this appetizer in spoons or on small plates or glasses makes this a casual, light, and enjoyable experience. Best enjoyed with Golden Drop Medium Wine.
You need the following ingredients (which makes 12 appetizer spoons, which can serve 4, 6, or 12):
12 prawns (frozen, uncooked, with shell)
1 mango
2 – 3 small spring onion stalks
5 – 6 big Moroccan mint leaves
2 tbsp chopped parsley leaves
2 tbsp chopped coriander leaves
2 tbsp chopped Greek basil leaves
zest and juice of 1/2 organic lemon
1 tbsp white balsamic vinegar
1 tbsp good quality olive oil
1 red chilli
1 tbsp black sesame seeds
1 tbsp sesame oil
salt & pepper to taste
If you use frozen prawns, defrost them before you start cooking. This takes about 2 hours if you leave them outside at room temperature. Wash the herbs, spring onions, chilli, and lemon.
For the Mango & Herb Salad:
Peel the mango and cut the yellow flesh into very small cubes. Chop the herbs and spring onions very thinly. Zest half a lemon and add all the ingredients into a Tupperware or bowl. Season with the juice of half a lemon and 1 tbsp white balsamic vinegar and 1 tbsp olive oil. Combine everything thoroughly and store in the fridge until serving
For the Grilled Chilli Sesame Prawns:
Peel the prawns (must be defrosted if they were frozen) and rinse them under cold water. If they still have the black intestines, remove them before rinsing by cutting the prawns lengthwise on the back and pulling out the intestines. Cut the chilli open, remove the seeds and discard them, and then chop the chilli very thinly. Using a Tupperware or bowl, combine the prawns, chopped chilli, sesame seeds, and sesame oil. Season with salt and pepper and store in the fridge until later.
Before serving, heat a grilling pan and grill the prawns on each side for about 2 minutes. You can do this also on your grill or barbecue outside.
Serving: If you have appetizer spoons, this is a great opportunity to use them. Otherwise you can also serve the dish on small plates or in small glasses. Add about 1 tbsp of the salad on each appetizer spoon and place one grilled prawn on top. I used tweezer tongs, which will help you place the prawns more accurately and neatly on top of the salad. Enjoy...
Chili Con Carne from Narin's World of Taste
With Chili Con Carne you can never go wrong. It's great as a midnight dish if you're having a big party e.g. for New Year's eve, and it's also one of my kid's favorite foods. Is a good source of nutrition for their weekday meals and very easy and quick to prepare. I love to add cumin and cinnamon because it creates a very nice flavor.
You need the following ingredients: (serves about 6-8)
1 kg ground beef
1 large onion
2 garlic cloves
400 g chickpeas
400 g kidney beans
230 g sweet corn
720 ml of tin tomatoes
75 ml / 5 tbsp tomato paste
480 ml water
1 small tsp chili powder
3 tbsp paprika powder
2 tbsp cumin
1 cinnamon stick
~ 1 tsp salt & pepper (to taste)
2 tbsp olive oil or butter
For serving:
sour cream
coriander
fresh chopped chilies
lime wedges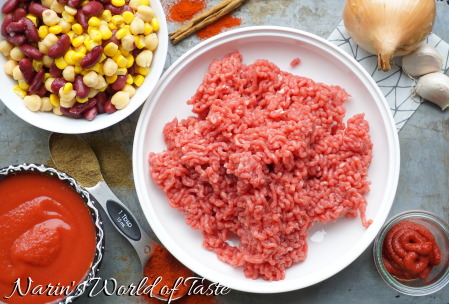 Begin by draining the glasses of the cooked chickpeas, kidney beans, and sweetcorn with a large sieve.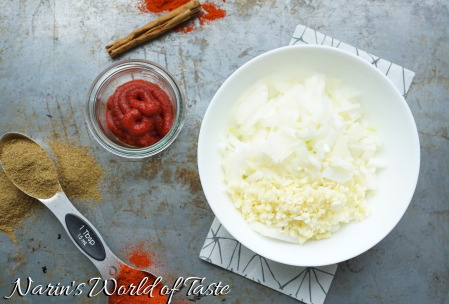 Peel the onion and cloves of garlic and chop them thinly.
Now heat 2 tbsp olive oil or butter in a large pot and add the chopped onions and cloves of garlic. Let them brown slightly by stirring continuously. Add the tomato paste, chilli powder, paprika powder, and cumin. Stir continuously until the paste becomes a bit darker in color. This step is very important to get all the flavors out of your spices.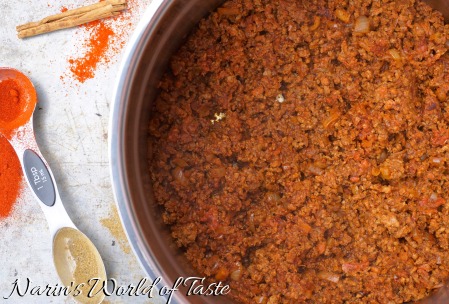 Once this has happened, add the ground beef and season with salt and pepper. Stir regularly until it is cooked. Add the tomato paste, water and cinnamon stick, combine everything and let it simmer for about 30 minutes. Then pour in the drained chickpeas, kidney beans, and sweetcorn and simmer again on low heat for about 1 – 1.5 hours. The Chili Con Carne becomes even better after a day or two.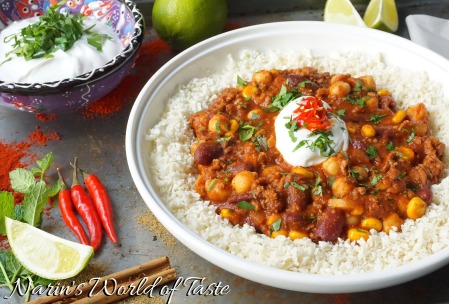 Serve the Chili Con Carne on a plate with rice, cauliflower rice, and/or chickpea flatbread. Garnish with sour cream, chopped chilies, lime wedges, and sprinkle some chopped coriander on top.